Worship Service Time update to 10:30 AM until further notice
To the congregation of Christ Lutheran Church, 
It is with a heavy heart that the Board of Education and Teachers have made the decision that a traditional Christmas program is not feasible this year. We know that this is a tradition that has been ongoing for many years. 
We are not completely abandoning the Christmas program tradition. The teachers have chosen a program that they will be working on in the upcoming weeks with the children of Christ Lutheran School. The Christ Lutheran School children will perform the program, it will be recorded and posted on the website and Facebook pages. There will be a sign up sheet in the narthex for a recorded copy of the program.
This decision was not made quickly or lightly. We appreciate your support and understanding.  If you have any questions, please contact the Board of Education. Thank you and have a safe and healthy holiday season.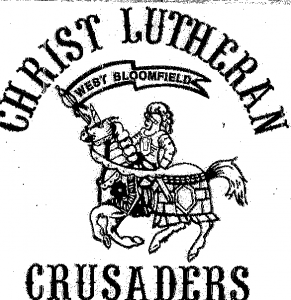 Welcome to Christ Lutheran Church and School!
Christ Evangelical Lutheran Church exists to live out the will of our Lord Jesus Christ that his 
disciples should go and make disciples of all nations by spreading the Gospel that he died upon the cross to redeem mankind from sin, death, and the devil
.
According to the word of God, this Christian congregation lives out the will of the Lord Christ by:  
• Conforming to his word in doctrine and practice,
• Uniting in worship (Heb. 10:24-25)), 
• Practicing fellowship with one another (Acts 2:42),
• Witnessing to all men (Acts 1:8), 
• Helping each other grow in the Word (Ephesians 4:11-14),
• Serving the needs of all men in Christian love (Ephesians 4:7-16, Mark 10:42-44,
     John 13:35 and Galatians 6:10)
• Administering the office of the keys as His Church (John 20:21-23,
Matthew 18:15-20), 
• Administering the Sacraments (Matthew 28:19, I Corinthians 11:24-25),
• And seeing that all things be done decently and in order in the Church,